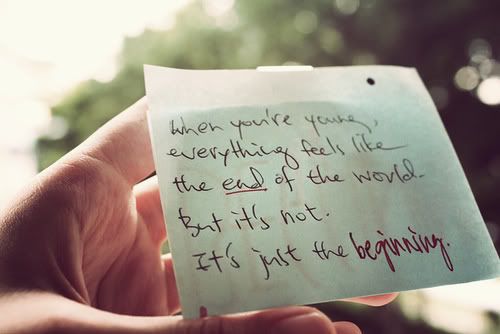 29.9.2010 will be da day i'll never 4get.. like my aunt aka kak tika tika tomey said, my face was so pale like i get a slap on my face.. pang!!! u deserved it.. ahaks..



what telah happen dat day? hmm... bior la rahsia but sumthing happen 2 a person i noe. she was so stress and tense wif what happen in her life.. so, she become a bit lunatic..
however, what happen 2 her made me realize sumthing..

every1 has problem.. it's normal.. when we said that we dont have problem, then we r officially dead.. it's hard 2 say when our problem gonna end but it will end 1 fine day.. if we have problem, try to share it wif out fren.. find a hobby that can make u stop thinking bout ur problem.. dont stress ur self out over problem that will never end..

2 dat girl, i've already 4give u.. i'll pray u'll get better soon.. there r other people who love n care bout u.. so dont let them down..

problem, crazy people n hectic day will always come ur way.. be patient.. insyallah everything will be fine.. will be okey..


when life puts
u in tough situation....
don't say WHY ME????
just say... TRY ME...!!!